Arena di Verona
100th Arena di Verona Opera Festival 2023
14 June 2022
From 16 June till 9 September 2023, a programme never seen before to celebrate 100 years of opera in the Arena
---
Fondazione Arena di Verona has announced an extraordinary Festival for 2023 to celebrate the one hundredth Arena Opera Festival, where it will be presenting an international audience with the most successful, repeated works performed in the amphitheatre during the 100 seasons since its beginnings in 1913. That means a total of 50 unrepeatable performances in under three months:
Aida by Giuseppe Verdi |
New production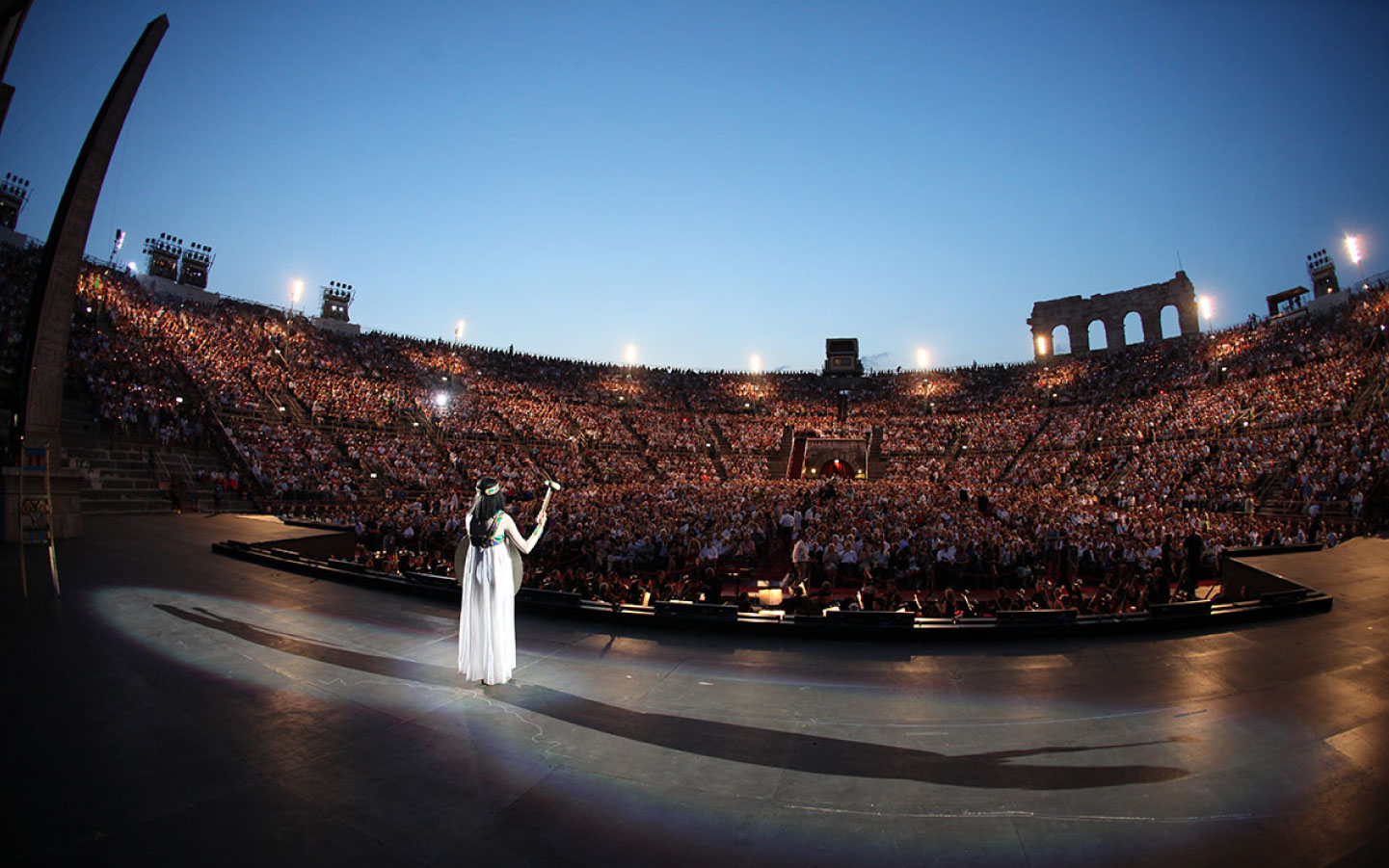 16, 17, 25, 29 June at 9.15 pm
9, 16, 21, 30 July at 9.00 pm
2, 13, 18, 23 August at 8.45 pm
3, 8 September at 20.45 pm
Carmen by Georges Bizet | Staged by Franco Zeffirelli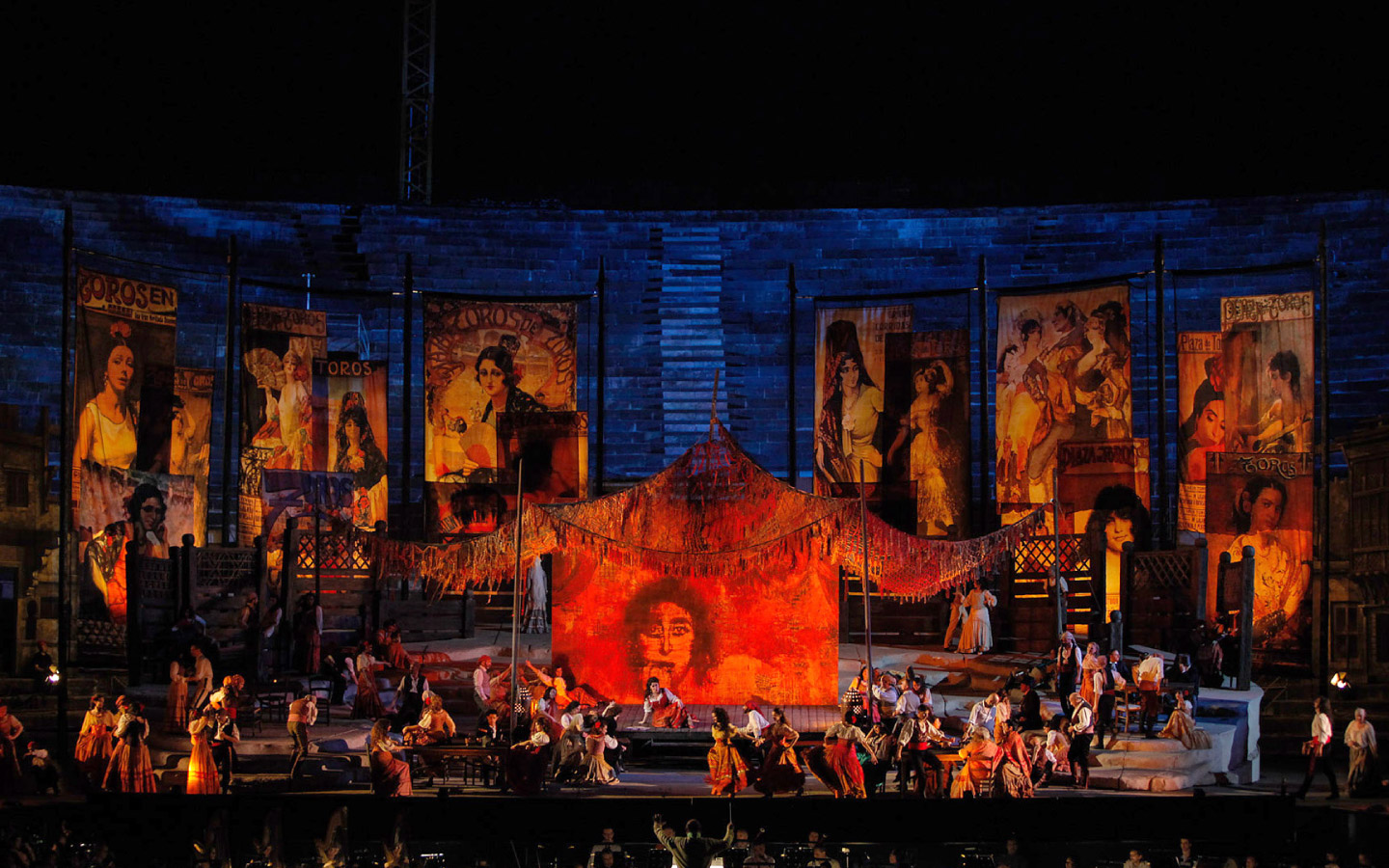 23 June at 9.15 pm
6 July at 9.00 pm
11, 24 August at 8.45 pm
6 September at 20.45 pm
Il Barbiere di Siviglia by Gioachino Rossini | Staged by Hugo de Ana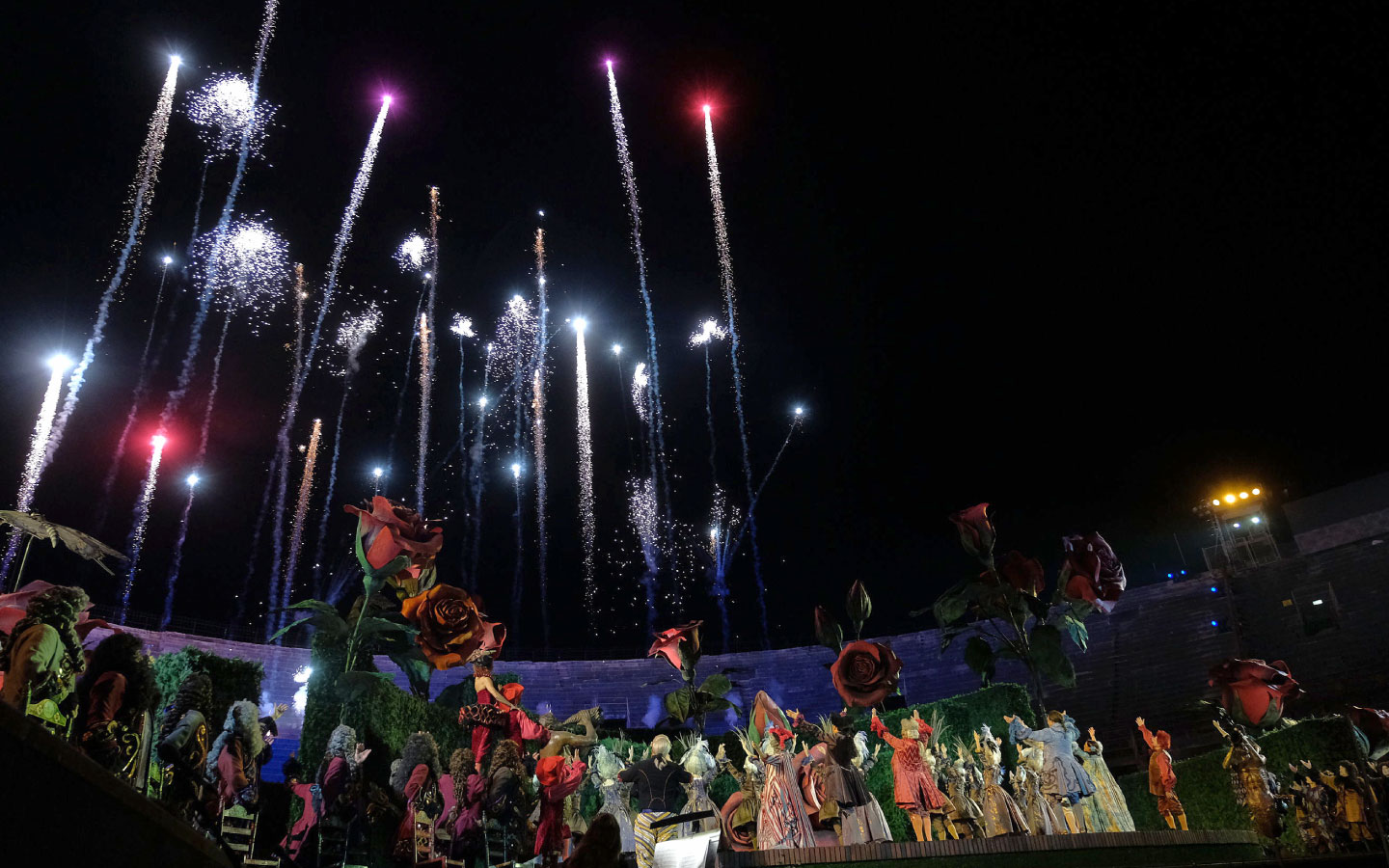 24, 30 June at 9.15 pm
13, 22 July at 9.00 pm
Rigoletto by Giuseppe Verdi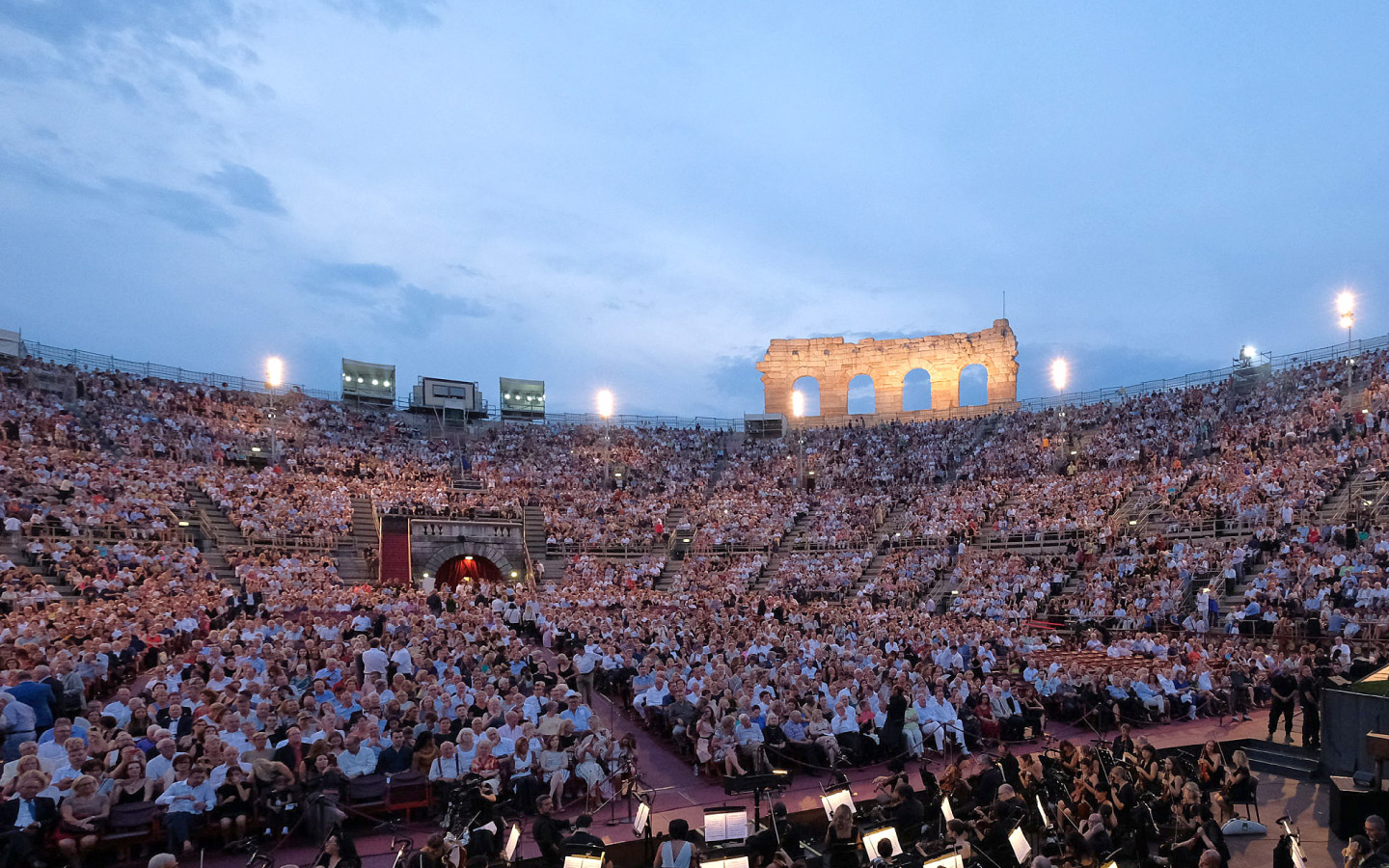 1, 7, 20 July at 9.00 pm
4 August at 8.45 pm
La Traviata by Giuseppe Verdi | Staged by Franco Zeffirelli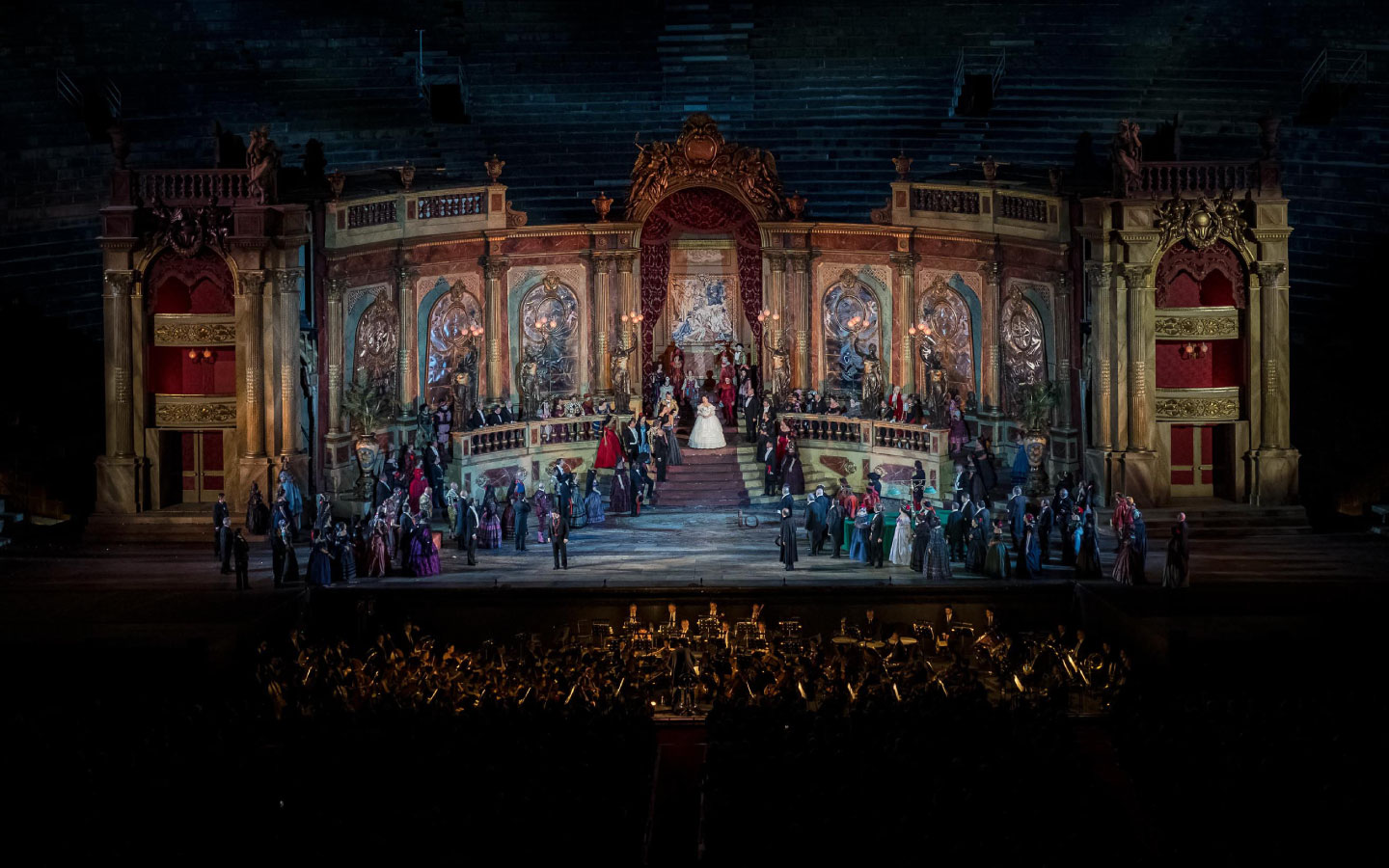 8, 14, 27 July at 9.00 pm
19, 26 August at 8.45 pm
9 September at 20.45 pm
Nabucco by Giuseppe Verdi | Staged by Gianfranco de Bosio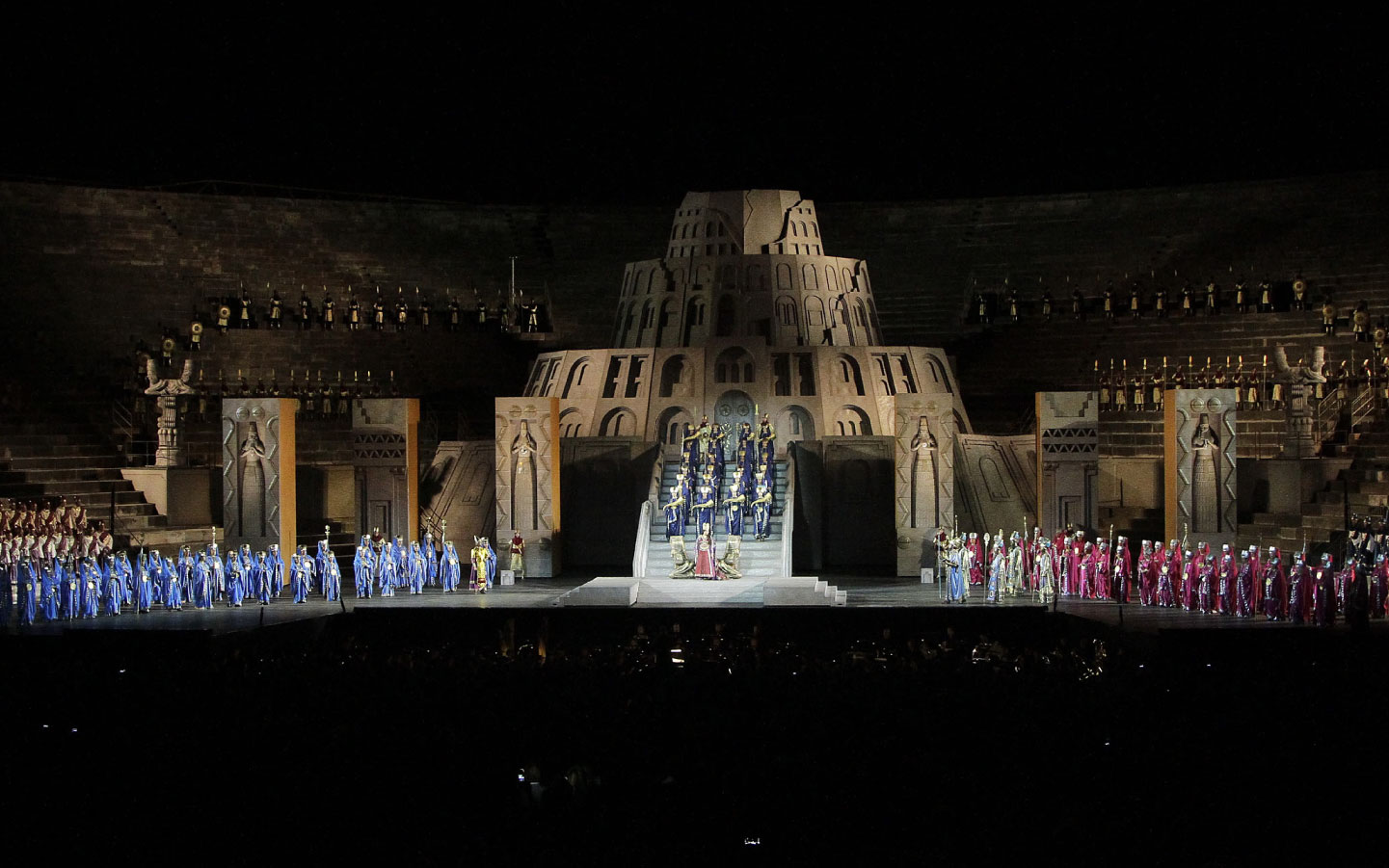 15, 28 July at 9.00 pm
3, 17 August at 8.45 pm
Tosca by Giacomo Puccini | Staged by Hugo de Ana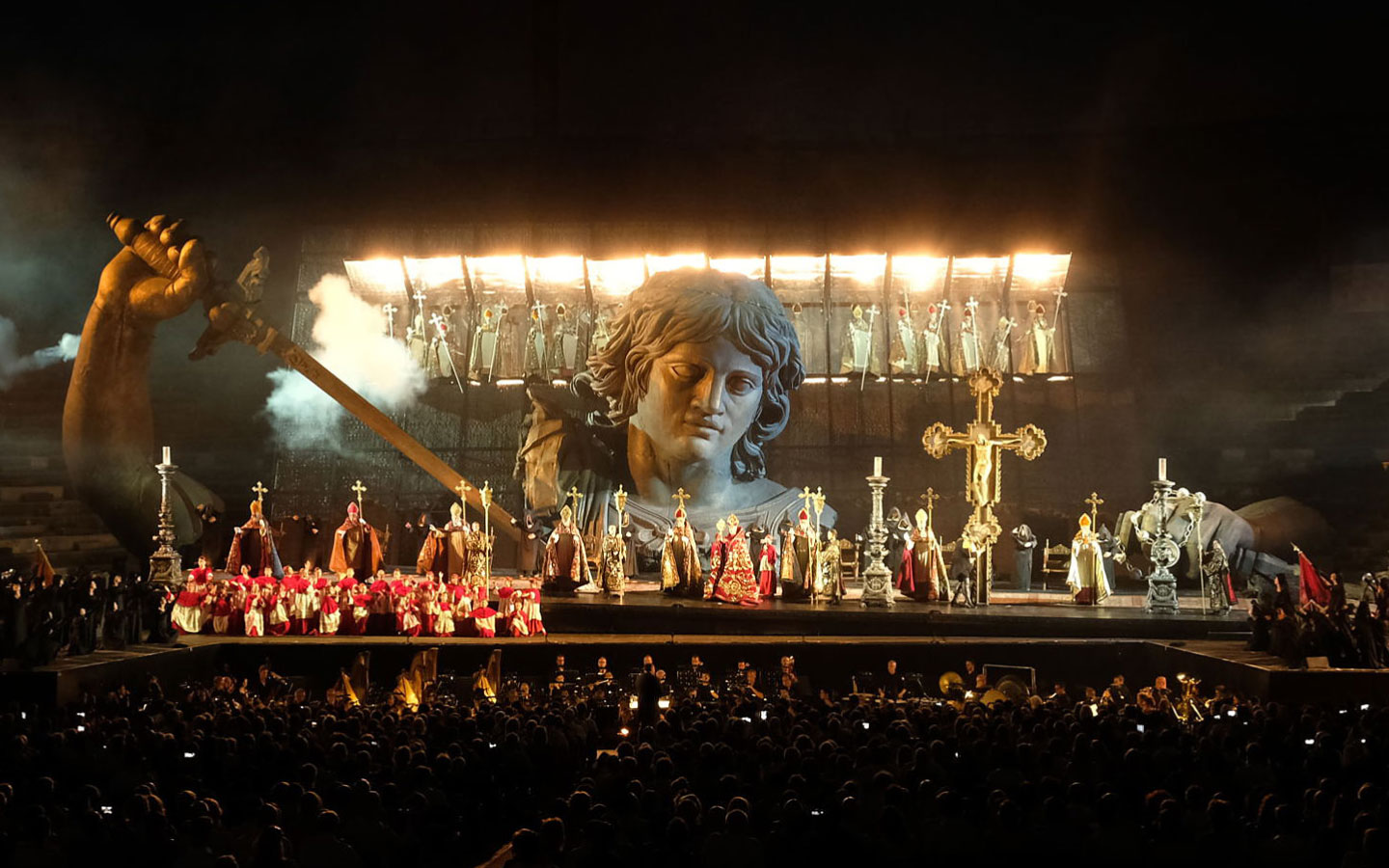 29 July at 9.00 pm
5, 10 August at 8.45 pm
1 September at 20.45 pm
Madama Butterfly by Giacomo Puccini | Staged by Franco Zeffirelli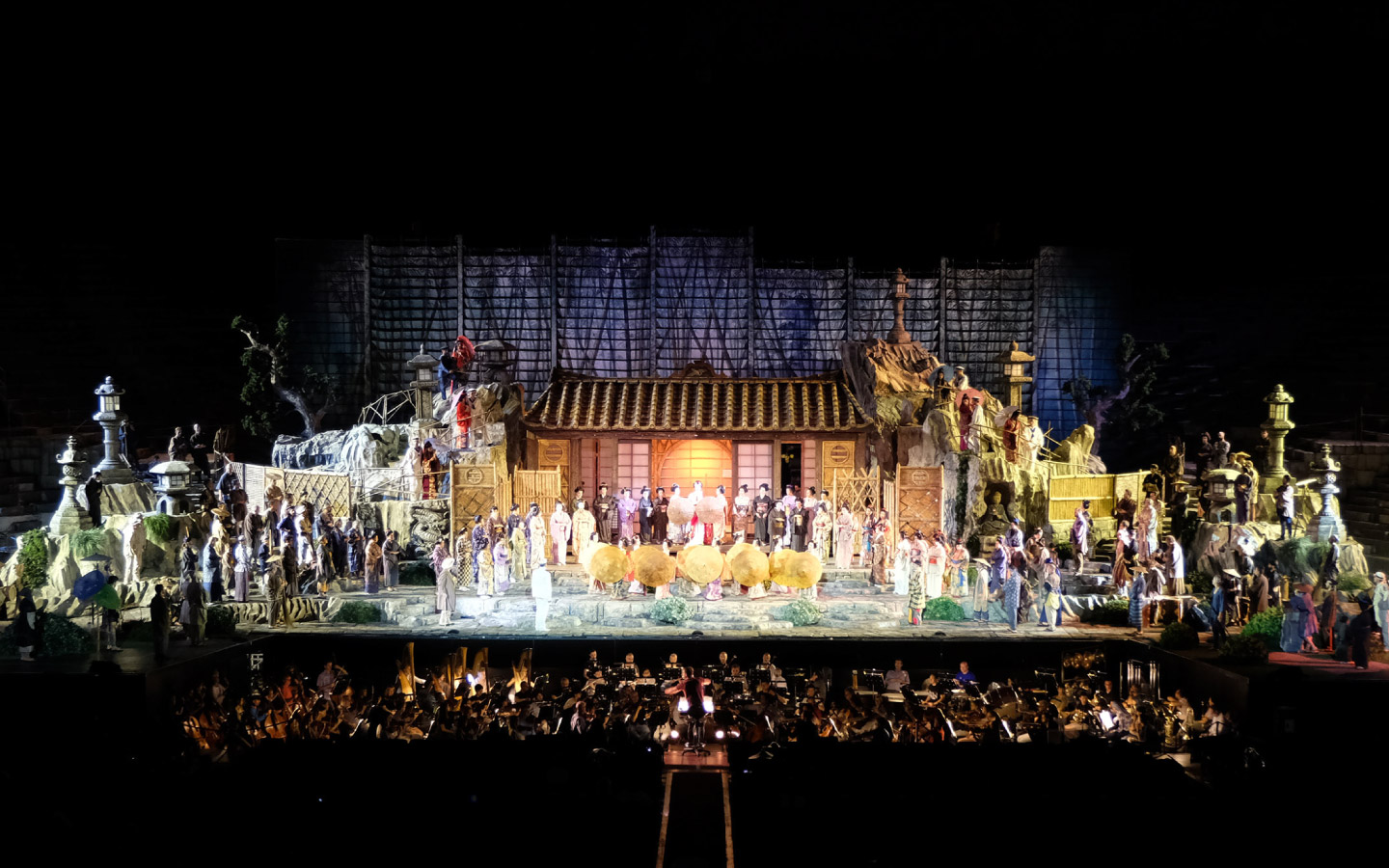 12, 25 August at 8.45 pm
2, 7 September at 20.45 pm
5 extraordinary evenings: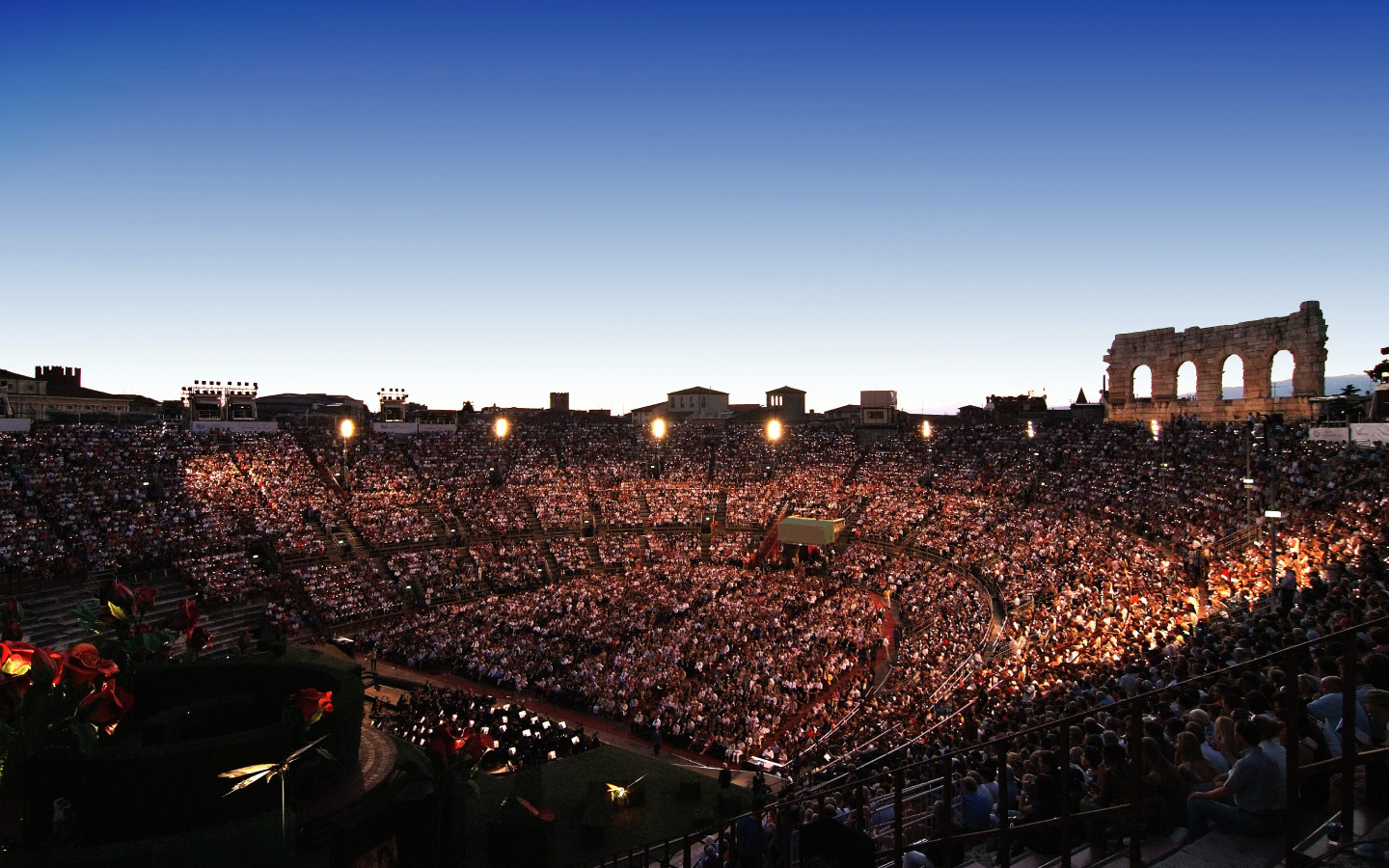 Roberto Bolle and Friends
Dance without borders by Roberto Bolle
19 July at 9.15 pm
Juan Diego Flórez in Opera-Arena 100
Juan Diego Flórez making his grand début in the Arena
23 July at 9.00 pm
Plácido Domingo in Opera-Arena 100
A special event dedicated to Plácido Domingo
6 August at 9.00 pm
Jonas Kaufmann in Opera-Arena 100
Jonas Kaufmann's eagerly-awaited return to Verona
20 August at 9.00 pm
Teatro alla Scala in Arena
A concert by the Orchestra and Chorus from the Teatro alla Scala
31 August at 9.00 pm
As for the traditional opening weekend on 16-17 June, this will be a genuine non-stop event to celebrate the most charming, fascinating, eclectic and lasting performance art ever created by human intelligence: Opera. The first two nights of Festival 2023 are already on sale as of 12 noon tomorrow, June 15.
One hundred times the first time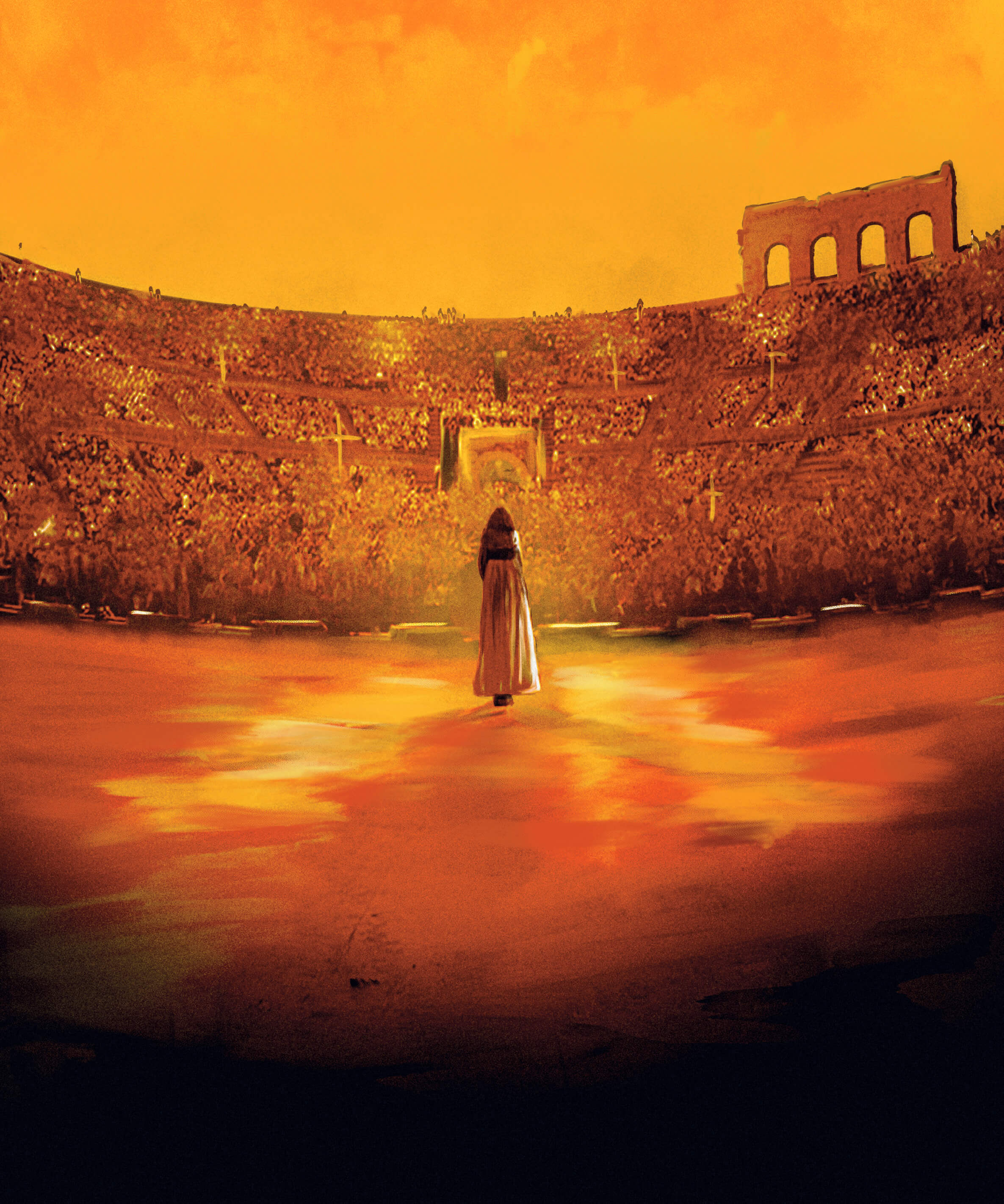 Although the Arena di Verona has always maintained its vocation as a performance venue throughout its millenary history: from the naumachie or staged naval battles of ancient Rome to the jousts of the Middle Ages, and on to Rossini in the early 1800s, it was not until 1913 that it became the true home of great open-air opera performances, with an Aida that epitomised the Art Nouveau trend of the time, reconstructed from original sketches and still beloved of audiences today.
Always true to its traditional role as democratic propagator of musical culture in Europe, as well as popular, accessible and universal home to musical theatre, loved by opera stars, crowned heads, Hollywood actors and audiences from all over the world, the Arena di Verona has always been one of the most influential locations for inclusiveness in art.
Season 100 of Opera in Arena comes one hundred and ten years after the first Festival, which saw its seasons interrupted by two World Wars and more recently, by the pandemic. The Festival will therefore be inaugurated with an eagerly awaited new production of Aida, the opera that has come to symbolise the amphitheatre. This will be followed by seven other of the most popular operas, as historically staged, which, with all the powerful grandeur and ingenuity needed to face such an immense stage, have become milestones in theatrical style the world over.
As well as the queen of the Arena's operas, the seven works being performed in the Arena are Verdi's Nabucco, Rigoletto and La Traviata, Bizet's Carmen, Puccini's Tosca and Madama Butterfly, and Rossini's The Barber of Seville. This colossal production endeavour, unprecedented for the Arena's artistic, technical and administrative teams, who will be working to bring the set designs of creative geniuses of the calibre of Franco Zeffirelli and Hugo de Ana to the stage, together with a tribute to the great history of the Arena, represented by Gianfranco de Bosio.
Today's greatest performers will be on the same stage that, since 1913 has seen performances by Zenatello, Grigolo, as well as Gigli, Schipa, Pertile, Lauri-Volpi, Lugo, Bergonzi, Corelli, Tucker, Del Monaco, Pavarotti, Carreras, Aragall, Giacomini, Licitra, Meli, Alagna, Sartori, Kunde, Kaufmann, Eyvazov, Karahan, Domingo, Gobbi, Bastianini, Protti, Cappuccilli, Bruson, Zancanaro, Hvorostosvskij, Alvarez, Nucci, Gazale, Enkhbat, De Angelis, Pinza, Pasero, Rossi-Lemeni, Ghiuselev, Giaiotti, Raimondi, Ramey, Furlanetto, Schrott, and Pertusi, without forgetting Maria Callas, who made her international debut here, and artists like Cigna, Caniglia, Dal Monte, Zeani, Stella, Cerquetti, Tebaldi, Gencer, Caballé, Price, Olivero, Kabaivanska, Chiara, Guleghina, Ricciarelli, Dimitrova, Gheorghiu, Dyka, Oropesa, Kurzak, Dessì, Hernández, Radvanosky, Netrebko, Yoncheva, He, Buratto, Siri, Stignani, Barbieri, Nicolai, Simionato, Cossotto, Obraztsova, Verrett, Garanča, Rachvelishvili, to name but a few.
Four great performances will be specially staged for four of our biggest stars: great friends of long standing, Plácido Domingo and Roberto Bolle will be in fact joined by Jonas Kaufmann returning to the Arena after the evening event of 2020, and the début at the Arena of Juan Diego Flórez, both starring in two different staged galas.
The date with opera and symphony will see the Orchestra and Chorus of the Teatro alla Scala, Milan as its stars, who will be performing at the Arena for the first time,bringing two symbols of Italian musical culture together for a single special date.
The inauguration weekend, always a traditional date for the Arena di Verona, will be transformed into a genuine non-stop party, emphasising the spirit for public participation that has always been one of the strengths of the Festival: the Arena's audience, who in this unique setting are a part of the performance itself - also thanks to the iconic candles - will be even more involved in the collective ritual of opera, through two musical white nights that will only end after sunrise.
Starting in autumn 2022, the Fondazione Arena di Verona will be offering a taster of the Festival in Europe's major capitals, for an international countdown, as international as the stars of the Festival have always been, starting with the most beautiful scenery in the world: the audience at the Arena.
Superintendent and Artistic Director, Cecilia Gasdia, the only cultural manager to have been an extra, a member of the Chorus, a soloist, and then, the first woman at the head of the world's largest theatre, stresses her emotion at being responsible for planning such a special year:
"Season 100 is a crucial occasion in the story of a musical institution, and we want it to be a celebration for everyone. It will showcase our identity, our history, and our present, but above all it will provide a taste of our future, starting with the key factors: the world's top performers - the main purpose of this great Theatre - and the sets, a feast for the eyes, on an exceptional, astounding stage. As ever, the audience will be the true focus of our plans and the ultimate recipients of the magical experience that is opera in the Arena."
Among the main partners and sponsors confirmed for the 100th season, special thanks go to UniCredit, Calzedonia, Pastificio Giovanni Rana, Volkswagen Group Italia, DB BAHN, RTL 102.5, and to the Official Sponsors, Veronafiere, Air Dolomiti, A4 Holding, Casa Sartori, SABA Italia, SDG Group and Vicenzi.