Teatro Filarmonico
2022 Artistic Season: tickets on sale for Teatro Filarmonico
11 January 2022
On sale from Tuesday 11th January season tickets, carnets and single tickets for the 2022 Artistic Season of the Fondazione Arena di Verona at the Teatro Filarmonico!
---
From Tuesday 11th January, Fondazione Arena di Verona launches new subscription packages, carnets and proposals. 6 operas and 10 concerts: from 30th January to 18th December a vast repertoire running from Baroque to Contemporary.

The 2022 Artistic Season at Verona's Teatro Filarmonico
The 2022 Artistic Season of the Fondazione Arena di Verona at the Teatro Filarmonico is about to start, with classics from the great repertoire and first performances in Verona.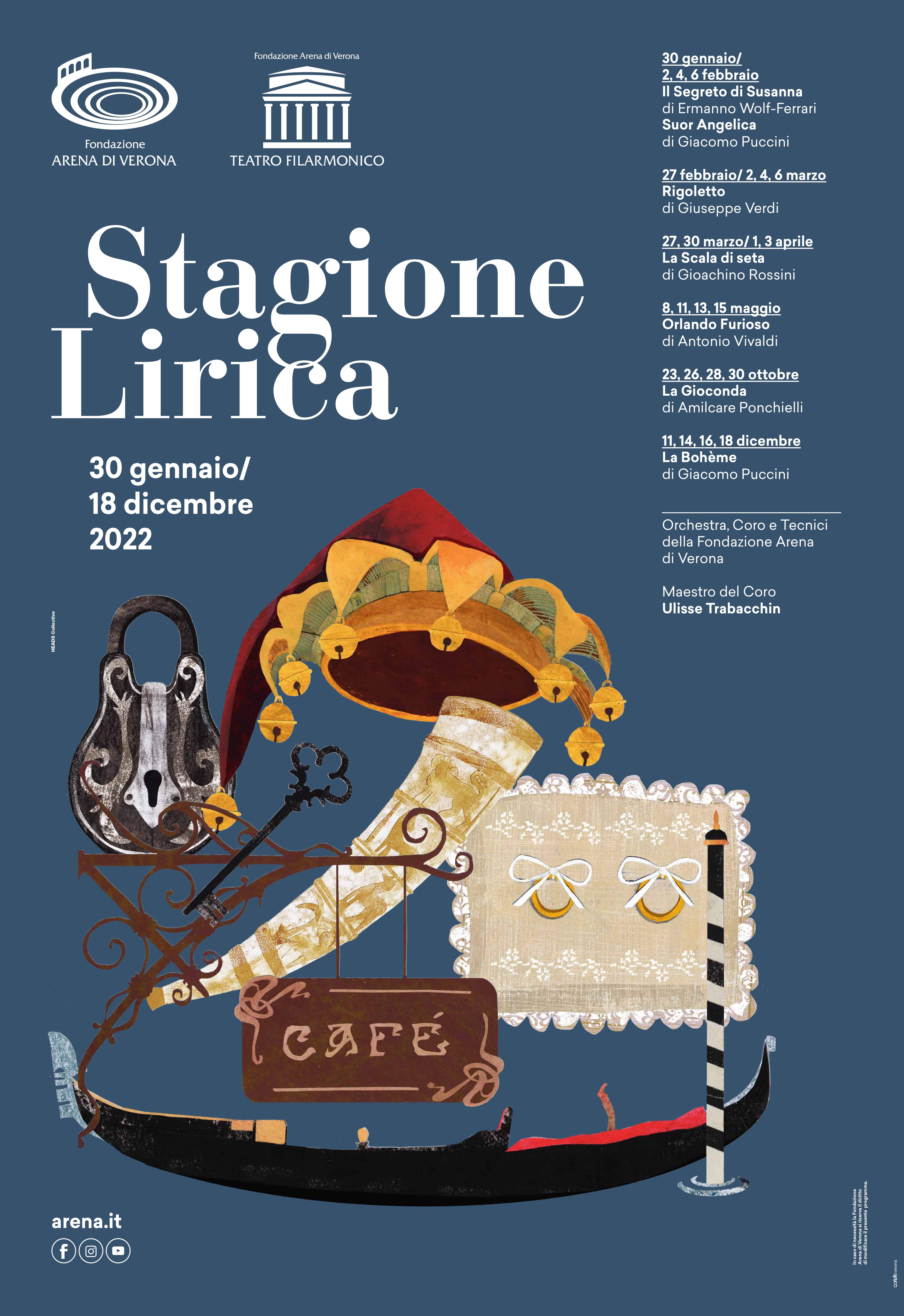 The Opera Season
The Opera Season opens on Sunday 30th January with two shows in one: the one-act operas Il Segreto di Susanna, an amusing intermezzo by Ermanno Wolf-Ferrari, and Suor Angelica by Giacomo Puccini, an intense elegy with an all-female cast led by Puccini Award winner Donata D'Annunzio Lombardi. Direction is by Federica Zagatti Wolf-Ferrari and Giorgia Guerra and set design by Serena Rocco and costumes by Lorena Marin; on the podium Gianna Fratta.
Further performances on Wednesday 2nd, Friday 4th (new subscription series) and Sunday 6th February 2022.

The great repertoire is back with Rigoletto from Verdi "trilogy popular", on stage from Sunday 27th February with the successful production by Arnaud Bernard with wooden scenery by Alessandro Camera that bring to mind the splendour of the Gonzagas; the conductor is Francesco Ommassini.
Further performances on Wednesday 2nd, Friday 4th and Sunday 6th March.


Another first for Verona goes on stage from Sunday 27th March: La Scala di seta, fresh effervescent farce by a young Gioachino Rossini never performed at the Filarmonico. The new Fondazione Arena production is directed by Stefania Bonfadelli and features a cast of very young talents conducted by the emerging Nikolas Nägele.
Further performances on Wednesday 30th March, Friday 1st April and Sunday 3rd April.

Cornerstone of Baroque Renaissance and the launch of the Filarmonico for its reopening, Orlando furioso by Antonio Vivaldi returns to Verona stages from Sunday 8th May, directed by Fabio Ceresa, with set design by Massimo Checchetto and costumes by Giuseppe Palella. Magnificent voices sought after worldwide are conducted by specialist Giulio Prandi.
Further performances on Wednesday 11th, Friday 13th and Sunday 15th March.

The 99th Festival at the Arena di Verona
The Orchestra, Chorus and Technicians are featured at the 99th Festival at the Arena di Verona from 17th June to 4th September, with five operas (Carmen, Aida, Nabucco, La traviata and Turandot) and three special events (Roberto Bolle and Friends, Carmina Burana, Domingo in Verdi Opera Night), for a total of 46 nights under the stars.
The Artistic Season opens again on Sunday 23rd October with the Amilcare Ponchielli masterpiece La Gioconda, in which Maria Callas debuted at the Arena, for the first time at the Filarmonico with a new production directed by Filippo Tonon, who also designed the sets and costumes (the latter with Carla Galleri); Giampaolo Bisanti is on the podium. Co-produced with the Theatre of Maribor and the As.Li.Co circuit, it will feature the Fondazione's complete workforce on tour for the first time in Slovenia and Lombardy.
Further performances on Wednesday 26th, Friday 28th and Sunday 30th October.
Lastly, on Sunday 11th December, Puccini's La Bohème goes on stage: the curtain rises just before Christmas, the initial scenario of the Parisian protagonists' jests. The opera (a new production realized by Stefano Trespidi with set design by Michele Olcese) is performed by a young international cast conducted by Alevtina Ioffe.
Further performances on Wednesday 14th, Friday 16th and Sunday 18th December.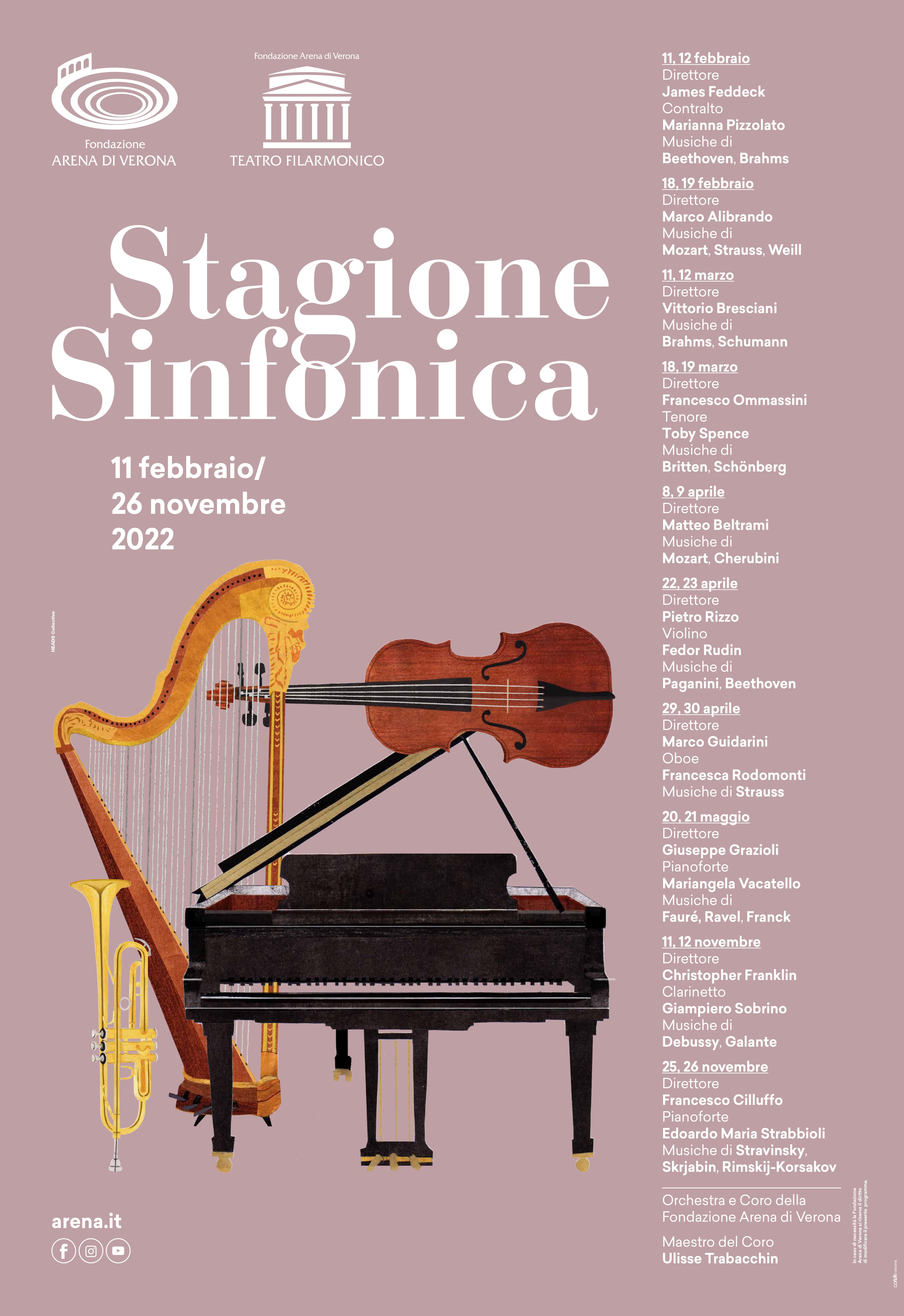 Symphonic Season
Following the tour in Oman and the first opera, the Symphonic Season is officially inaugurated: 10 concerts by the Orchestra and Chorus of the Fondazione Arena, internationally prestigious conductors and soloists, with season ticket facilities with two traditional subscription series on Friday evening at 8 pm or Saturday afternoon at 5 pm, or able to be combined with the opera appointments on the other Fridays with the new Venerdì in platea (Friday stall seats) Carnets.
The season begins on Friday 11th and Saturday 12th February: New York maestro James Feddeck pays tribute to Beethoven with his Coriolano Ouverture, Symphony No. 2 in D and the Rhapsody for contralto, male chorus and orchestra by Johannes Brahms with Marianna Pizzolato.
On Friday 18th and Saturday 19th February, the protagonists are the Arena Orchestra's wind instruments, conducted by Marco Alibrando in Mozart's monumental Serenade "Gran Partita", in the extremely rare Serenade op. 7 for wind instruments by Richard Strauss and the captivating Suite from the famous Threepenny Opera composed by Kurt Weill for Brecht.

Vittorio Bresciani conducts a romantic German concert on Friday 11th and Saturday 12th March: the program features the Tragic Ouverture and the Song of Destiny for chorus and orchestra by Brahms and Schumann's Symphony No. 4 in D.
An extremely rare combination of music of the 1900s in Verona on Friday 18th and Saturday 19th March: Francesco Ommassini conducts the Arena's strings in Notte trasfigurata by Schőnberg and the suite Les Illuminations by Britten to verses by Rimbaud with tenor Toby Spence.
After several years, Matteo Beltrami returns to Verona for the Easter symphonic-choral concert on Friday 8th and Saturday 9th April, with Mozart's Adagio and Fugue K546 and Luigi Cherubini's monumental Requiem in C minor.
On Friday 22nd and Saturday 23rd April, Pietro Rizzo (on his first appearance in Verona) continues the exploration of Beethoven, conducting Symphony No. 4 in Bb and Concerto No. 1 for violin by the composer's contemporary Paganini played by the young talent Fedor Rudin.

Then on Friday 29th and Saturday 30th April, Marco Guidarini conducts a monographic evening dedicated to the music of Richard Strauss: the crepuscular Concerto for oboe and small orchestra with the Arena's first oboe, Francesca Rodomonti, and the Suite from The bourgeois gentleman, incidental music for the comedy by Molière.
Giuseppe Grazioli is conducting the French program on Friday 20th and Saturday 21st May: Fauré's Pavane, the Symphony in D by Franck and the Concerto in G by Ravel with award-winning pianist Mariangela Vacatello.
The symphonic autumn opens on Friday 11th and Saturday 12th November with Giampiero Sobrino's solo clarinet in Debussy's Première Rhapsodie and Carlo Galante's contemporary composition Invano morte desìo and is completed by the countless colours of La Mer by Debussy. On the podium US conductor Christopher Franklin.

On Friday 25th and Saturday 26th November, Francesco Cilluffo narrates the most highly imaginative visionary Russia: the Symphony of Psalms by Stravinskij, with the Chorus directed by Ulisse Trabacchin, Skrjabin's Concerto with pianist Edoardo Maria Strabbioli and the fantastic sounds of the Suite from The Golden Cockerel by Rimskij-Korsakov.
Arena Young
In 2022, Arena Young initiatives begin again for pupils, students and staff of schools, universities and academies, confirming the special Open rehearsals, the Return to the Theatre preludes before week-day performances, and seven productions of theatre in music for youngsters with Il Teatro si racconta.
For the operas, afternoon subscription series A and B have been confirmed, while, by popular demand, the show evenings have been changed: opera appointments move to Wednesday (series C, at 7 pm) and Friday (series D, at 8 pm).
Among the new 2022 features, there is a formula that includes a 2022 Arena Festival show in the season tickets for the Teatro Filarmonico. A brand-new proposal is the Friday stalls seats carnet: 8 dates including 3 operas and 5 symphonic concerts, all on Fridays at 8 pm at an exceptional price.
Season tickets, carnets and single tickets are on sale from Tuesday 11th January, at the main ticket office, from TicketOne sales points and online at www.arena.it
Ticket news
From Tuesday 11th January, it is possible to purchase season tickets for the 2022 Opera Season and Symphonic Season at the Teatro Filarmonico di Verona.

As well as the four series of opera season tickets (Firsts, Afternoons, Wednesday evenings at 7 pm and Friday evenings at 8 pm), and the 2 series of symphonic season tickets (Friday evenings and Saturday afternoon), as of this year, it is possible to purchase a special carnet with 8 Friday stalls seats: valid from the performance of Il Segreto di Susanna and Suor Angelica on Friday 4th February, it includes 8 Friday evenings that combine three operas and five symphonic concerts with highly varied programs; a special opportunity to discover new composers, stories and performers, rediscover the great names and talents of the artistic and technical staff of Fondazione Arena. Cast and programs on www.arena.it.