Arena di Verona
Fondazione Arena di Verona opens the season at the Royal Opera House Muscat with "Rigoletto"
21 January 2022
Fondazione Arena di Verona opened the season at the Royal Opera House Muscat with "Rigoletto" on the 10th anniversary of the Omani opera theatre
---
Fondazione Arena di Verona was once more the protagonist of a great cultural event in the Sultanate of Oman, thanks to the successful reopening, following two years of pandemic silence, of the Royal Opera House Muscat for its tenth season since the Theatre's foundation.
The prestigious co-production, whose partners also include the Lithuanian National Opera and Ballet Theatre and Florence's Fondazione Zeffirelli, has as its protagonist the iconic international figure of Franco Zeffirelli, who conceived and worked for a long time on this Rigoletto, which he presented personally in 2018 at the age of 95 and which yesterday, 20th January, finally reached its world premiere.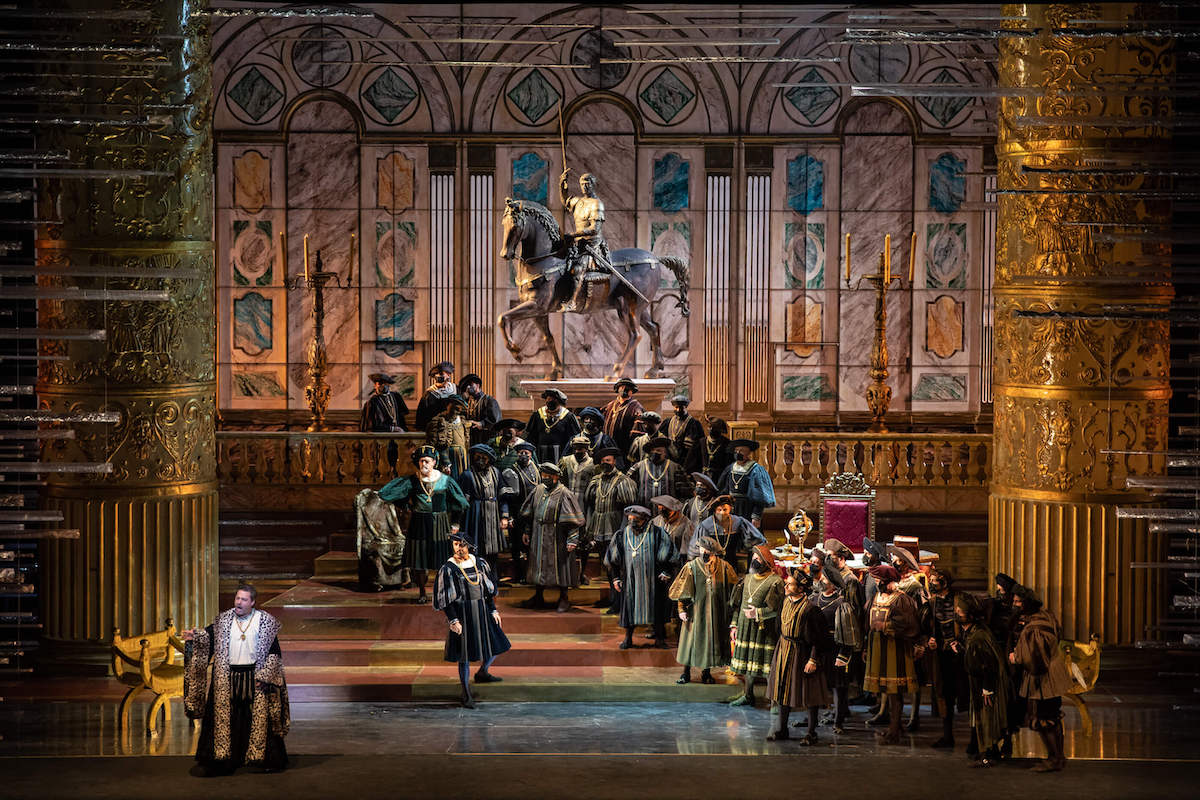 Following yesterday's first night, with a full theatre and the participation of the top authorities, Rigoletto is also being staged on Friday 21st and Saturday 22nd January. The production will be broadcast in prime time by Rai 5 on Friday 28th January. On Sunday 23rd, after the opera's prestigious journey to Oman, the Verdi Masterpieces concert will be staged, with choral and orchestral pieces from the Busseto composer's most famous operas.
The well-established relationship between Fondazione Arena and the Royal Opera House Muscat began with the memorable success of Franco Zeffirelli's production of Turandot in 2011 for the Theatre's inauguration (staged again in 2015), continued in 2014 with Bellini's I Capuleti e i Montecchi directed by Arnaud Bernard, and again in 2018, firstly with La Sonnambula by Bellini directed by Hugo de Ana and then with the show Fuego and the gala dedicated to the Zarzuela with Plácido Domingo as its protagonist.
RIGOLETTO
Opera in three acts. Libretto by Francesco Maria Piave
Music by Giuseppe Verdi
Conductor Jan Latham-Koenig
Direction and set design Franco Zeffirelli
Direction assistant Stefano Trespidi
Assistant scenographer Carlo Centolavigna
Costumes Maurizio Millenotti
Lighting Designer Paolo Mazzon
Characters and performers
The Duke of Mantua Dmitry Korchak (20, 22/01), Ivan Magrì (21/01)
Rigoletto Ambrogio Maestri (20, 22/01), Vladislav Sulimski (21/01)
Gilda Giuliana Gianfaldoni (20, 22/01), Enkeleda Kamani (21/01)
Sparafucile Riccardo Zanellato (20, 22/01), Antonio Di Matteo (21/01)
Maddalena Yulia Mazurova (20, 22/01), Maria Barakova (21/01)
Giovanna Agostina Smimmero
Count Monterone Kristinn Sigmundsson
Marullo Christian Peregrino
Matteo Borsa Dave Monaco
Count Ceprano Kurt Rydl
Countess Ceprano Clarissa Leonardi
Court usher Omar Kamata
The Duchess's page Barbara Massaro
Fondazione Arena di Verona Orchestra and Chorus
with the participation of the Muscat Opera Choir Group
Chorusmaster Vito Lombardi
"I solisti veneti" string ensemble
"Il Leoncello - School and Historical Dance Group" dance company
directed by Alessandro Pontremoli