Arena di Verona
Turandot in Franco Zeffirelli's fairy-tale staging for the 99th Arena di Verona Opera Festival 2022
03 August 2022
First performance: Thursday 4 August, at 8.45 pm
---
Turandot is Puccini's last opera drama, inspired by Carlo Gozzi's 18th century theatrical fairy tale by the same name. It was first staged at La Scala in Milan on 25 April 1926, conducted by Arturo Toscanini, who chose to end the opera specifically with the death of the fragile and sweet Liù, the exact point in which the work of the author, who had died a year and a half before, had stopped. Puccini's notes for the finale were entrusted to another composer, Franco Alfano, to whom we owe the conclusion with which Turandot is traditionally performed.
Turandot
by Giacomo Puccini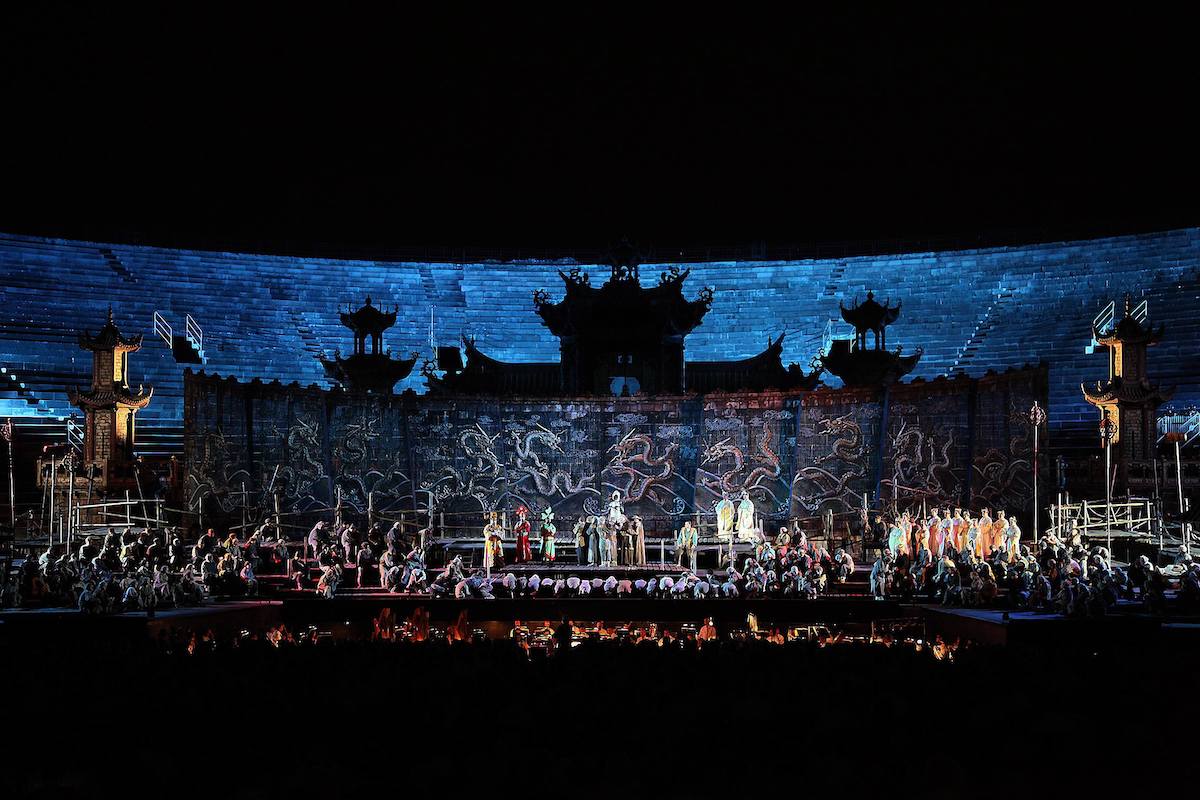 Puccini's masterpiece reached the Arena in 1928, only two years after its premiere, and although it is the most recent title by the Lucca-based composer, it was also the first to be performed on the Verona stage, collecting to date a total of 150 performances that place it in fourth place among the most performed operas in the Arena, surpassed in numbers only by Aida, Carmen and Nabucco.
In addition, in the performance history of Turandot in the ancient amphitheatre, many world-class artists have left their mark: just to name a few, George Thill, Giacomo Lauri Volpi, Mario Filippeschi, Franco Corelli, Franco Bonisolli, Nicola Martinucci, Plácido Domingo, José Cura, Salvatore Licitra, Gina Cigna, Maria Callas, Magda Olivero, Birgit Nilsson, Maria Chiara, Katia Ricciarelli, Ghena Dimitrova, Eva Marton, Alida Ferrarini, Giovanna Casolla, Fiorenza Cedolins, Maria Guleghina and Cecilia Gasdia, Vittorio Gui, Antonino Votto, Francesco Molinari Pradelli, Giuseppe Patanè, Alain Lombard, Pier Luigi Pizzi, Mauro Bolognini, and Giuliano Montaldo.
The libretto by Verona-based composers Giuseppe Adami and Renato Simoni places the action 'in the time of fairy tales', in an ancient and timeless Beijing, which is sumptuously recreated by Franco Zeffirelli for this Arena production designed in 2010. The majestic cinematic shows fits perfectly into the glorious tradition of the Arena, expertly combining the eye-catching effect of the scenes with attention to detail.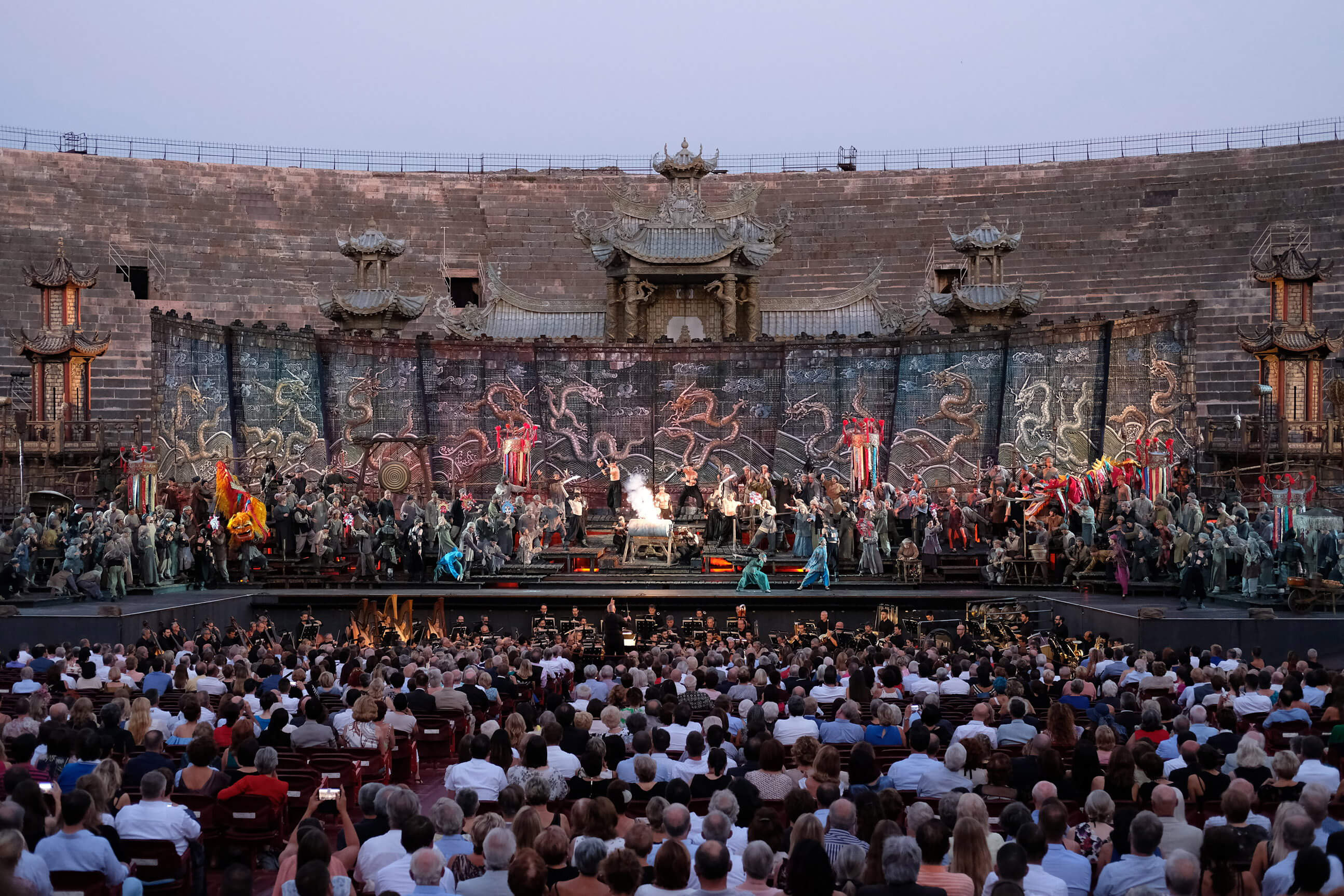 The cast, led by the batons of Marco Armiliato (4, 7, 10/8), Francesco Ivan Ciampa (13, 19/8 - 2/9) and only on 26 August by Plácido Domingo, features great international voices, starting with the long-awaited return, after the Arena debut in last year's title role, of Anna Netrebko and Yusif Eyvazov as Turandot and Calaf for thefirst three dates, who will alternate for the other show dates with Oksana Dyka (13, 19, 26/8 - 2/9), Murat Karahan (19/8) and Yonghoon Lee (26/8 - 2/9).
In the role of the sweet maiden Liù we will see Maria Teresa Leva (4, 7/8) and Ruth Iniesta (10, 13, 19, 26/8 - 2/9). Next to them, the elderly father Timur played by Ferruccio Furlanetto (4, 7/8) and Riccardo Fassi (10, 13, 19, 26/8 - 2/9), with the three masks of Gëzim Myshketa (4, 7, 10, 13, 19/8) and Biagio Pizzuti (26/8 - 2/9) as Ping, Pong by Matteo Mezzaro and Pang by Riccardo Rados.
Carlo Bosi'sEmperor Altoum (4, 7, 10, 13, 19/8) and Chris Merritt (26/8 - 2/9), Youngjun Park's Mandarin and Carlo Bosi's Prince of Persia (4, 7, 10, 13, 19/8) complete the cast.
Other performances: 7, 10, 13, 19, 26 August, 2 September.