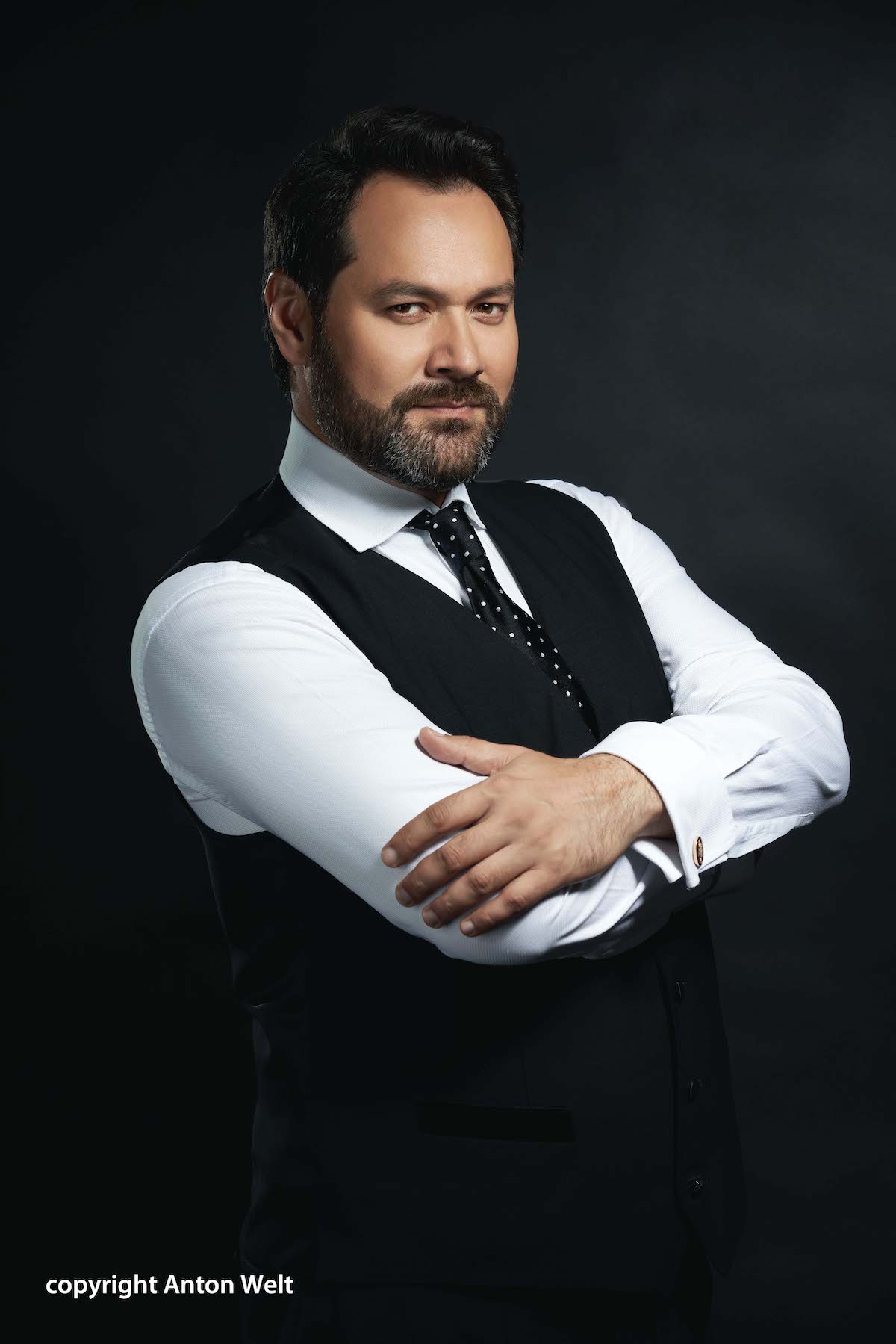 Biography
Ildar Abdrazakov has firmly established himself as one of opera's most sought-after basses and one of his generation's most celebrated and recognized artists. Since making his debut at the Teatro alla Scala in Milan in 2001 at 25, the Russian native has become a mainstay at leading houses worldwide, including New York's Metropolitan Opera, Paris National Opera, the Vienna State Opera and Munich's Bavarian State Opera.
His powerful yet refined voice coupled with his compelling stage presence have prompted critics to hail him as a
"sensational bass … who has just about everything – imposing sound, beautiful legato, oodles of finesse" (The Independent).
Being also an active concert artist, he has performed at London's BBC Proms and at New York's Carnegie Hall, as well as with leading international orchestras, including the Chicago Symphony Orchestra and the Vienna Philharmonic.
Ildar Abdrazakov's works
Ildar Abdrazakov kicks off the 21-22 season as Don Basilio in a new production of Il Barbiere di Siviglia at the Vienna State Opera. This role is also a vehicle for his return to the Salzburg Festival later in the season. Being a very versatile artist, he can be heard in Vienna also in the title role of Boris Godunov and as Selim (Il Turco in Italia), alongside Cecilia Bartoli. The Russian bass appears as Banquo in the prestigious season opening production of Macbeth at the Teatro alla Scala, where he also presents his fourth solo recital at the renowned stage. Ildar Abdrazakov makes a notable role debut as Scarpia (Tosca) at the Teatro di San Carlo in Naples and his house debut as Gremin (Eugene Onegin) at the Opera Royal de Wallonie. In addition, he returns to the Bolshoi Theatre as Don Giovanni and to Zurich Opera as Mustafa (L'Italiana in Algeri). He performs one of his signature roles, Verdi's Attila, in the concert performance at the Royal Opera House Covent Garden in London and closes the season by participating in the Domingo Gala at the Arena di Verona.
Highlights of the 20-21 season include a new production of Boris Godunov at the Opera de Monte-Carlo, the globally televised season opening concert at the Teatro alla Scala, first appearances at the summer festivals of Choregies d'Orange and Sopot Classical Festival and his return to the Salzburg Festival with concerts of Beethoven's Missa Solemnis and Berlioz's La Damnation de Faust. Scheduled performances as Filippo II (Don Carlo) at the Vienna State Opera, Deutsche Oper and Munich Gasteig, as Frère Laurent (Romeo et Juliette) and Don Basilio (Il Barbiere di Siviglia) at the Metropolitan Opera, as well as concerts of Shostakovich's 13th Symphony with Boston Symphony Orchestra, solo recitals at the Erkel Theatre and the Pierre Boulez Saal, and Verdi's Requiem at the Berlin State Opera in 2020/21 were cancelled due to the Covid-pandemic.
Ildar Abdrazakov has appeared with virtually every major opera company in the United States and Europe such as Madrid's Teatro Real, the Gran Teatro del Liceu in Barcelona, the San Francisco Opera, the Washington National Opera and the Los Angeles Opera. Since his house debut in Don Giovanni (2004) Ildar Abdrazakov has become a mainstay at the Metropolitan Opera. He headlined the gala opening of the company's 2015-16 season in the title role in a new Sir Richard Eyre production of Le nozze di Figaro. Previously, he sang the title role in a new Dmitry Tcherniakov's staging of Borodin's Prince Igor – a performance captured on DVD and Blu-ray by Deutsche Grammophon. Other notable Met productions include his role debut as Henry VIII opposite Anna Netrebko in Anna Bolena, Dosifey in Mussorgsky's Khovanshchina, Escamillo in two productions of Carmen, the title role of Attila under the baton of Riccardo Muti, the title role in Le nozze di Figaro, Assur in Rossini's Semiramide, Leoporello in Don Giovanni and most recently Banquo in Verdi's Macbeth and Mephistopheles in Berlioz's La damnation de Faust.
Ildar Abdrazakov is a frequent guest at Teatro alla Scala in Milan, where he joined Riccardo Muti in concert for the reopening of the theatre in 2004-05 and sang Moses in a production of Rossini's Moïse et Pharaon that was recorded and released on CD and DVD. In the 18-19 season, he starred as Verdi's Attila in a season opening new production televised globally. He has also sung three solo recitals and Don Ruy da Silva in Verdi's Ernani at the famous house. His many triumphant performances on one of the most prestigious opera stages has resulted in the award of the Franco Abbiati in the category "Best Singer".
The bass made his Salzburg Festival debut in 2009 in a new production of Rossini's Moïse et Pharaon. Since then, he has returned regularly, singing amongst others Méphistophélès in a new production of Faust, Mustafà alongside Cecilia Bartoli in the Festival's new production of Rossini's L'Italiana in Algeri and performances of Verdi's Messa da Requiem conducted by Riccardo Muti.
His first appearance at London's Royal Opera House in 2009 was made with Verdi's Requiem in concert with Sir Antonio Pappano. Since then he returned there to sing Don Basilio in Rossini's Il Barbiere di Siviglia and Filippo II in Verdi's Don Carlo. The title role in Le Nozze di Figaro was the vehicle for Abdrazakov's 1998 house debut at St. Petersburg's Mariinsky Theatre. Among his other signature roles are both the title role and Leporello in Mozart's Don Giovanni, Méphistophélès in Gounod's Faust and Berlioz's La damnation de Faust, Oroveso in Bellini's Norma; Selim in Rossini's Il Turco in Italia and Assur in his Semiramide. The Russian bass is noted for Verdi roles including Walter in Luisa Miller and the title character in Oberto and Attila, as well as Banquo in Macbeth and Filippo II in Don Carlo. The French version of this role took Ildar Abdrazakov to the Paris National Opera in 17-18, where he also made his triumphant debut in the title role of Mussorgsky's Boris Godunov, broadcast live in cinemas all over the world and sang Prince Igor in a new production by Barrie Kosky.
In 2018-19, Ildar Abdrazakov made his debut as a stage director in a production of Attila for Bashkir State Opera in which he also performed the title role.
Concerts
On the concert stage, he has given recitals in Russia, Italy, Japan and the United States, and has performed with orchestras including the Orchestre Metropolitain, the Leipzig Gewandhaus Orchestra, Deutsches Symphony Orchester, the Bavarian Radio Symphony, the Rotterdam Philharmonic, the Orchestre National de France, the Orchestra Filarmonica della Scala and Rome's Accademia Nazionale di Santa Cecilia. Among the noted conductors with whom he has collaborated are Riccardo Muti, Valery Gergiev, Sir Antonio Pappano, James Levine, Yannick Nézet-Séguin, Gianandrea Noseda, Bertrand de Billy, Riccardo Frizza and Riccardo Chailly. In November and December 2017 Ildar Abdrazakov toured Europe with Rolando Villazón. The concerts in Prague, Berlin, Baden-Baden, Stuttgart, Munich, Paris and Vienna presented the repertoire of their first joint album "Duets", featuring duets from Italian and French operas. The album was launched in September 2017 by Deutsche Grammophon.
Recordings
Ildar Abdrazakov's debut solo album Power Players, a celebration of the great Russian bass roles, was released in early 2014 on Delos, to great critical acclaim. His recording of Verdi's Messa da Requiem with Riccardo Muti and the Chicago Symphony Orchestra won a Grammy Award. He also has recorded unpublished arias by Rossini with Riccardo Chailly and the Symphony Orchestra of Milan, as well as Giuseppe Verdi for Decca, and Cherubini's Mass with Muti and the Bayerischer Rundfunk for EMI Classics. For Chandos he has recorded Shostakovich's Suite on Verses of Michelangelo and Rachmaninoff's The Miserly Knight, both with Gianandrea Noseda and the BBC Philharmonic. In early 2017 Abdrazakov signed an exclusive contract with Deutsche Grammophon. His first solo album Verdi was released in summer 2019. The bass's DVD releases include Moïse et Pharaon from La Scala, Oberto from Bilbao, Norma from Parma and Lucia di Lammermoor from the Metropolitan Opera. Marking the Verdi bicentennial, May 2013 saw Abdrazakov's star turn in the title role of Attila immortalized on the Mariinsky label's first DVD/Blu-ray release.
Biography
Abdrazakov was born in Ufa, the today's capital of the republic of Bashkiria in Russia. Both of his parents were artists: his mother was a painter and his late father a director. At age four Abdrazakov began acting in his father's stage and film productions, and these early experiences inspired him to pursue a career in the arts. Upon graduating from the Ufa State Institute of Arts, he joined the Bashkirian Opera and Ballet Theatre. In the late 1990s he won a string of prestigious vocal competitions: the Moscow Grand Prix named after Irina Arkhipova, the Glinka International Vocal Competition, the Rimsky-Korsakov International Competition, and the International Obraztsova competition. His 2000 win at the Maria Callas International Television Competition in Parma thrust him into the international spotlight and led to his debut at La Scala the following year.
Ildar Abdrazakov has his own foundation, created to support and promote young talented musicians. Since 2018 he is annually organizing festivals in Russia, inviting renowned singers to give concerts and masterclasses there. Since 2014, Ildar Abdrazakov is also Artistic Director of the Elena Obraztsova International Academy of Music.
CSAM 2021