Arena di Verona
67 colonne per l'Arena di Verona
Discover the "67 colonne per l'Arena" (67 columns for the Arena) initiative, an important Fundraising and Corporate Membership project conceived to strengthen one of the key institutions of the economy and culture of the city of Verona and the surrounding area, but also a worldwide icon of Italian character.

The Project
The project took its name from the idea of ideally rebuilding the outermost ring of arches, destroyed by an earthquake in 1117, with the support of entrepreneurs and professionals united by the love for the Arena as a true enterprise.
An ambitious project that, in the light of such enthusiastic participation, aims at becoming an annual membership - there is already a waiting list for 2022 - animated by the on-going arrival of new supporters, large companies and small entrepreneurs, united by the desire to be part of one of the country's cultural excellences, a worldwide symbol of "Made in Italy".
The birth of the initiative
2020 and the lack of complete activity by the Arena di Verona Festival demonstrated in a tangible manner just how tightly the economy of the city and its amphitheatre are linked. The economic impact the Arena has on many sectors of Verona's economy is difficult to calculate but, on the basis of studies by Federculture and Fondazione Symbola, the economic impact of a cultural festival can be calculated at between 5 and 7 times its production value; in other words, if the turnover of the Fondazione Arena di Verona is approximately 45 million euros, for each euro spent on culture, on average €6 are generated. The impact of the Arena on the city is therefore approximately €270 million per year. A value that is even doubled in the case of international festivals with a high tourist vocation.
These results showed the importance of making the Veneto region's economic system aware of the need to safeguard this treasure.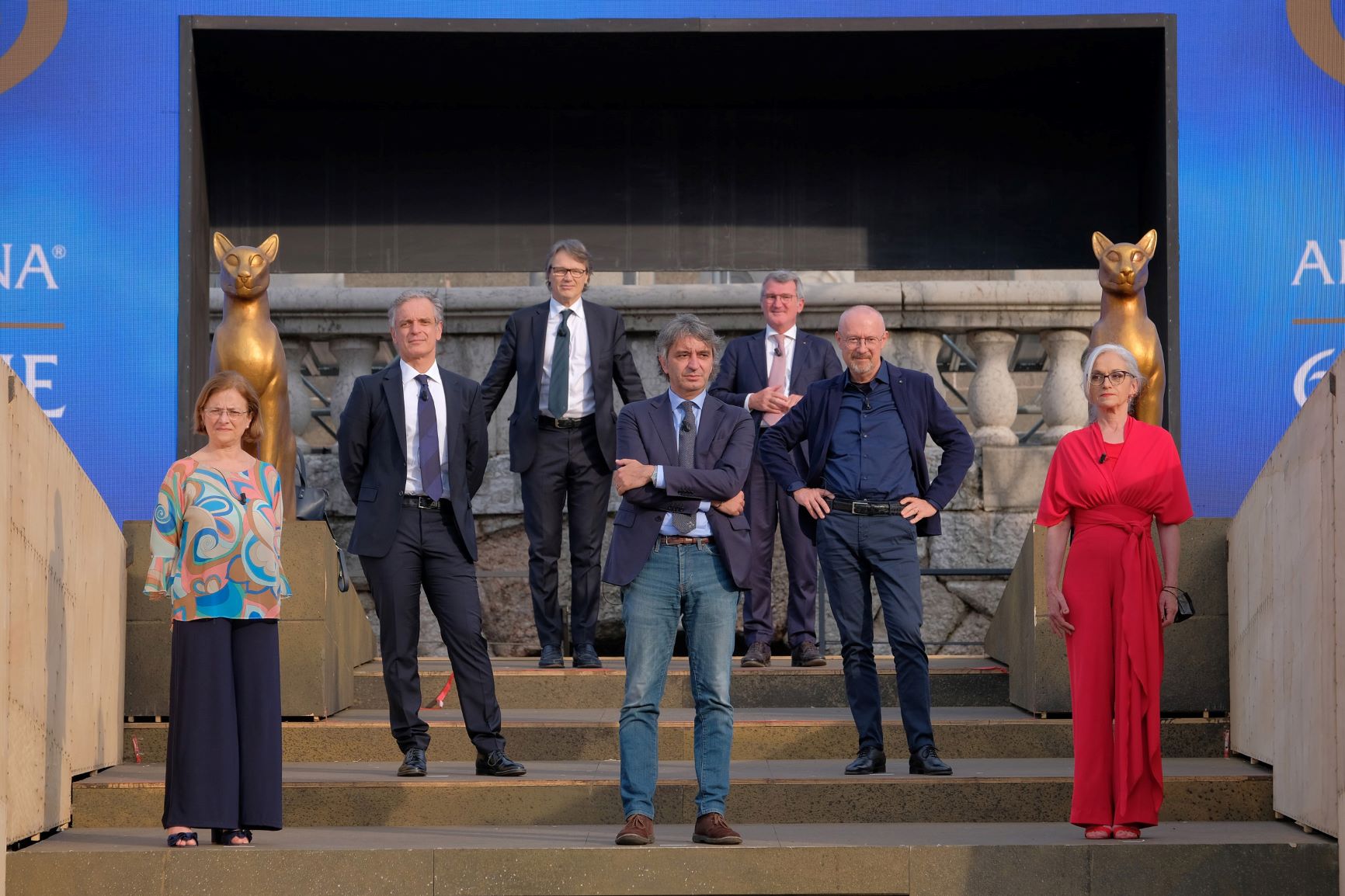 Calzedonia Group and Pastificio Giovanni Rana founders of the campaign
Just a month from its presentation, the "67 colonne per l'Arena di Verona" fundraising project had taken off with the participation of two large companies in the role of Founders:
Calzedonia Group, who has been a supporter of the Festival since 2006, and Pastificio Giovanni Rana, back alongside the Fondazione Arena for this ambitious initiative.

The excellence of these companies, symbols of top Italian quality worldwide, joined the unique international value of the culture represented by the Arena, for a true call to action addressing other 65 donors. Soon after, professional and trade associations also joined the project, by adopting special columns and organizing activities to promote the project with their member and make them more aware of it.


The results
On 9th June, with an event that gathered all the entrepreneurs who had taken part in the fundraising in the Arena, the first edition ended of the "67 colonne per L'Arena di Verona project", realized in partnership with Athesis publishing group and the 67 columns destroyed in 1117 were virtually rebuilt, thanks to the commitment of numerous donors who, along with the commitment of the Arena's historical sponsors, raised over a million and a half euros.
The appeal made a few months ago therefore achieved excellent results, with over a million and a half euros raised to support Fondazione Arena, which has not only also been the emblem of Italian culture all over the world, but also one of the very few cultural bodies that are not a burden to the country, as it returns much higher sums to the state coffers than those received. The project was reported by the various media of the Athesis Group via the protagonists' experiences and their stories, reaching the hearts of all those who are close to the city from the point of view of collective awareness.


FOUNDER
Calzedonia
Giovanni Rana
ADVISOR
Campeggio Bella Italia Spa
Consorzio per la Tutela Formaggio Grana Padano
Credit Network & Finance Spa
Generalfinance Spa
Gruppo Veronesi - AIA, Negroni, Veronesi
Swinger Genny
Tecres Spa
LEADERSHIP
A&O, Famila, Galassia e Dpiù
Autostrada del Brennero Spa
Banca Veronese Credito Cooperativo di Concamarise
Cartiere SACI Spa
Chef Giancarlo Perbellini
Coca-Cola HBC Italia
Consorzio ZAI
Masi Agricola
Pasqua Vigneti e Cantine
Piva Group Spa
Riello Industries - Cav. Pilade Riello
Scatolificio del Garda
Zenato Winery
BENEFACTOR
A4 Holding
ACS Dobfar Spa
Airone Gifts
Alessandro Medici - Madcom
Allegrini
AR.VE. Srl
Assiteca Spa
B&P Avvocati - Butti and Partners
Bauli Spa
Belluzzo Mercanti
Bendinelli Srl
Campagnola Giorgio Costruzioni Generali Srl
Citres Spa
Colosio Srl
Concessionaria Verona Motori
Distributori Al Risparmio
Eismann Srl
Engel & Völkers Verona e Bardolino
Everel Group Spa
Ey Spa
Famiglia Bonetti Villa Pisani a Lonigo
Flover Srl
Fondazione Banca Popolare di Verona
Fope
Forkette
Giuseppe Tartaglione
Gruppo Metinvest
Hotels2Go
Jolife by Villafrut
Leaderform Group
Madas Srl
Maison Esthetique Group
Man Truck & Bus Italia
Ottella di Francesco e Michele Montresor
Pastificio di Martino
Pidigi Spa
Polin Spa
Quoin Srl Engineering
Redoro Frantoi Veneti
Renato Mai di Mai Italia
Riam Ascensori Srl
Sanity System
Sicurplanet Srl
Studio Protecno Srl
Tecnovap - Fam. Franchini
The Bridge - La Famiglia Organic
Tommasi Family Estates
Uprent di Scaligera Service
Vecomp Spa
Windtex Vagotex Spa
SPECIAL COLUMNS
Confindustria Verona
Apindustria Confimi Verona
Confagricoltura Verona
Confartigianato Imprese Verona
Confcommercio Verona
Consiglio Notarile di Verona
Federalberghi Verona
Federfarma Verona
Fipe Confcommercio Verona
Ordine degli Avvocati di Verona
Ordine degli Ingegneri di Verona
Ordine dei Consulenti del Lavoro di Verona
Ordine dei Dottori Commercialisti ed Esperti Contabili di Verona
Ordine dei Farmacisti di Verona e Provincia
Ordine dei Medici Chirurghi e Odontoiatri di Verona
DONORS
Andrea Falsirollo
Alberto Mion
BRN Engineering Srl
Rotary Club Verona Est
Studio Legale Rigoli & Associati
Tipolitografia Boschetti Srl
Andrea Compagnucci
Stefano Trespidi
per l'Ordine dei Consulenti del Lavoro di Verona
Giovanna Rossignoli
Lorenzo Sartori
Roberto Gelmini
Silvia Campara
Studio Pro.Service della dott. Silvia Ronca
per il Consiglio Notarile di Verona
Alessio Paladini
Alessio Porceddu Cilione
Andrea Fantin
Art Paladini
Cristiana Cascone
Cristiano Casalini
Elena Borio
Emanuele De Micheli
Floriana Zago
Francesca Vidonis
Francesco Amabile
Giacomo Felli
Giacomo Gelmi
Giampaolo Mondardini
Giovanna Iorini
Laura Curzel
Lorenzo Celli
Lorenzo Salvatore
Luca Paolucci
Lucio Lombardi
Marco Paolo Augusto Pelosi
Maria Maddalena Buoninconti
Maristella Adami
Melchiorre Saraceno
Michela Merighi
Nicola Marino
Paolo Broccoli
Paolo Carbone
Pia Marinucci
Roberto Leso
Sergio Macchi
Silvia Chiara Pescetta
Silvia Brognara
Silvio Scuccimarra
Valentina Papoff
Io sono l'Arena – the project dedicated to private individuals
The Arena has never stopped and, above all in this period of crisis, needs everyone's sensitivity and help of more than ever. The #iosonolarena crowdfunding campaign is an appeal to private individuals and citizens to support the Arena in a concrete manner in virtue of its key role in the life of the area and the over 1,200 people who work on its Opera Festival every season.
The Arena, like all the other organizations in the world of shows, was hit hard by the crisis connected with the Covid pandemic. You can donate freely to our fund-raising campaign to support culture, employment and tourism.